Daniela Freitas BSc (Kin), CSCS, CEP, PFLC, CK, CPTClinic Manager
Treatment Plan Co-ordinator
E-Mail DANIELA
Daniela graduated from York University with a Bachelor of Science Honours Degree in Kinesiology and Health Science. A supplementary certificate in Fitness Assessment and Exercise Counseling makes her an invaluable asset to the fitness and wellness team at SHAPE.
As a personal trainer and Certified Strength and Conditioning Specialist (CSCS), Daniela has widespread knowledge and experience in sports performance, weight loss, pre and postnatal conditioning, as well as balance, stability, and functional training. Daniela is also recognized by the Canadian Society for Exercise Physiology as a Professional Fitness and Lifestyle Consultant (PFLC) and by the Ontario Kinesiology Authority as a Certified Kinesiologist.
While assisting with medical and fitness testing for the Toronto Maple Leafs, the NHLPA Entry Drafts, and the Ontario Firefighters, Daniela gained extensive experience in the assessment of physical performance as well as the ability to motivate high performance athletes.
In her role as Treatment Plan Coordinator at SHAPE Health and Wellness Centre, Daniela is passionate about helping all clients achieve their goals. She works closely with each client to ensure proper progress is made and each life is enriched and revolutionized by their program at SHAPE.
---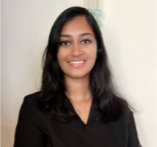 Riya Shah, BKin
Client Relations Associate
Riya graduated from University of Toronto with a Bachelors in Kinesiology. Her placement/internship experience at a previous chiropractic/physiotherapy clinic makes her a vital asset to the fitness and wellness team at SHAPE.
Growing up, Riya played numerous sports ranging from badminton to cricket. With intense interest in the sport of cricket, Riya joined the cricket team where she had taken the role of being the team's captain along with playing for the Mayor's cricket trophy here in Toronto.
With previous knowledge in exercise and injuries, Riya believes that each client is unique with the process of recovery. Riya loves to interact with clients and greatly believes that the integrated approach of SHAPE is best in providing them with the fastest recovery.
---
Christina Atherley, BA Phys Ed, BSc, MPhys Ed Corporate Sales Associate
Christina is Toronto born, but island raised and educated at the University of the West Indies Cave Hill Campus. She graduated with a Bachelor of Science and specialized in a Master's in Physical Education becoming a Certified PhysEd. teacher in Barbados. In 2010, she became a massage therapist, practicing in the Caribbean for several years.

Since moving back to Canada, Christina completed her Massage Therapy Diploma to use her positive and energetic personality helping others. Believing in energy and mindfulness as important parts of the healing process, she is very aware of how to positively influence clients, listening to the body and mind to gain perspective and generate ideas to truly help each patient feel better. From a technical aspect, she has an excellent grasp of anatomy and physiology to understand pain, as well as skill for treatment planning which facilitates each client's transition back to wellness.

Christina has been in the fitness business since 2004, coaching a variety of sports, and teaching group exercise classes and personal training. She is extremely passionate about fitness and helping everyone find their Fit-Centre. As a former athlete and coach, Christina understands the dynamics of training to strengthen the body, improve flexibility, coordination and rehabilitate injuries.
She specializes in event specific training, strength and conditioning as well as the best techniques build better balance and body awareness. Her ability to provide exercise modifications, explain, cue and connect are paramount to guiding clients to building the best mind-body connection, promoting healing and self-improvement.

Christina enjoys learning and is committed to improving her skill set to be in a position to better help her patients. 'Live, Laugh Learn' is her motto for life and business.
---
Jenna Linton, DOMP, RKinManual OsteopathRegistered Kinesiologist
Client Relations Associate
Jenna's approach to manual osteopathic treatment is individualized, unique and innovative. Prior to studying Osteopathic Manual Therapy at the National Academy of Osteopathy in Toronto, she completed her Bachelor of Kinesiology at the University of British Columbia in Vancouver. Following her osteopathic training, Jenna wrote her College of Kinesiologists of Ontario exam and is a Registered Kinesiologist. Jenna has always had a great interest in the biomechanics of the body and its interconnectedness.

From a young age, she competed in gymnastics and dance which led her to see many health professionals ranging from physiotherapists and massage therapists, to reiki practitioners and chiropractors. These experiences sparked her interest to become a professional trained in injury recovery, pain management, and healing. Jenna has worked with brain and spinal cord injuries and has a passion for neuroscience and neuro-plasticity.
In her free time, Jenna enjoys hiking, reading, yoga, and playing with her dog. She believes that if our bodies are in alignment with proper exercises and stretching, we can lead a pain free life. Her hope is to use her knowledge to help alleviate current pains and prevent them from recurring.
---
Adam Salsberg, BAHSc, CAT(C)
Certified Athletic Therapist – First Responder
Conditioning Specialist
Client Relations Associate
Adam graduated from college with a diploma in outdoor adventure. During his time at Algonquin he specialized in rock climbing, high angle rescue, snowboarding and white water kayaking. After his program, he worked in the rock climbing and adventure sport industry for several years. Adam became fascinated with how people were repeatedly getting injured and he wanted to learn how to help them return to their activities. Adam decided that the best method was to continue his education in the field of injury care. He then obtained a degree in athletic therapy.
Throughout Adam's career, he has worked as a head athletic therapist for several sports teams, including soccer, rugby, hockey, football, and field hockey. As a student therapist, Adam worked with the Hamilton Tiger-Cats and the Ryerson Rams.
Adam aims to help patients reach their goals by reducing pain through manual therapy, correct biomechanics and appropriate exercise plans. Giving patients the tools necessary to reduce pain is Adam's highest priority.