Daniela Freitas BSc (Kin), CSCS, CEP, PFLC, CK, CPTClinic Manager
Treatment Plan Co-ordinator
E-Mail DANIELA
Daniela graduated from York University with a Bachelor of Science Honours Degree in Kinesiology and Health Science. A supplementary certificate in Fitness Assessment and Exercise Counseling makes her an invaluable asset to the fitness and wellness team at SHAPE.
As a personal trainer and Certified Strength and Conditioning Specialist (CSCS), Daniela has widespread knowledge and experience in sports performance, weight loss, pre and postnatal conditioning, as well as balance, stability, and functional training. Daniela is also recognized by the Canadian Society for Exercise Physiology as a Professional Fitness and Lifestyle Consultant (PFLC) and by the Ontario Kinesiology Authority as a Certified Kinesiologist.
While assisting with medical and fitness testing for the Toronto Maple Leafs, the NHLPA Entry Drafts, and the Ontario Firefighters, Daniela gained extensive experience in the assessment of physical performance as well as the ability to motivate high performance athletes.
In her role as Treatment Plan Coordinator at SHAPE Health and Wellness Centre, Daniela is passionate about helping all clients achieve their goals. She works closely with each client to ensure proper progress is made and each life is enriched and revolutionized by their program at SHAPE.
---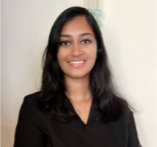 Riya Shah BKin, RMT
Registered Massage Therapy
Exercise Therapist

Client Relations Associate
Riya is an incredible Registered Massage Therapist from Sutherland - Chan School of Massage Therapy. She also received her Bachelor's of Kinesiology from the University of Toronto. Her passion is to help others' physical health and well-being, which motivated her to pursue a career in massage therapy post graduate. Throughout her studies, she has gained extensive clinical experience working with a wide demographic population, with various musculoskeletal conditions.
Along with her previous knowledge in exercise therapy and rehabilitation, Riya believes that each client is unique with their personalized process of recovery. Her treatment style is a holistic, patient - centered approach with the goal of catering to the individual needs of the patient in order to achieve long term effects towards their overall well-being.
In her free time, Riya loves to play cricket, practice meditation and paint.
---
Adrian Fournier CHC, CES, OES, CPT, CPNExercise Therapist
Client Relations Associate
Adrian has an educational background in health sciences (nursing), and a passion for health and fitness. Adrian is an experienced fitness consultant, specializing in medical exercise, posture and movement neurology, orthopedic exercise (post-rehabilitation), corrective exercise (injury-prevention), movement mobility and optimal performance, weight loss, and senior fitness.
Adrian has a diverse professional development education that allows him to easily collaborate with industry healthcare practitioners, ensuring clients receive an effective and unique health-fitness program, tailored to meet their particular needs. Adrian has earned various graduate and post-graduate accreditations from the following health-fitness credentialing bodies: National Academy of Sports Medicine, American Council on Exercise, Brookboosh Institute of Human Movement Science, Rehab U - Movement and Performance Therapy, and the American Posture Institute.
Adrian previously served at a prestigious Yorkville sports medicine clinic as the director of personal training and was humbled to work collaboratively with a team of medical doctors and healthcare practitioners, implementing medical fitness consulting and programming with their patients. In addition to Adrian's involvement at SHAPE, in his spare time, Adrian is a competitive masters diving athlete where he has represented Canada twice for the FINA World Championships (2014 and 2017). He is also taking prep courses to pursue a Masters of Applied Neuroscience & Mental Health (Abnormal Psychology).
---
Excel Mba
Client Relations Associate
Excel is completing a specialized Bachelor of Science in Kinesiology. Her previous experience in clinical physiotherapy/rehabilitation settings has prepared her to be well equipped for the SHAPE team. Excel has a passion for fitness and activity that was fuelled by her participation in numerous sports teams as an adolescent.
As a personal trainer with a kinesiology background, Excel has been exposed to many opportunities where she has fined tuned her knowledge and abilities for Athletic training. She is well versed in strength/power training as well as weight loss and maintenance training. She hopes to bring this enthusiasm to her experience at SHAPE and interaction with SHAPE clientele. In her free time, she enjoys weight lifting, playing sports and spending time with her friends and family. She hopes to bring a positive and personable experience to SHAPE clients and grow with the SHAPE team.