Katherine Colleen Walsh, BPEd., RMTRegistered Massage Therapist
Colleen began her massage career in 2006 when she studied The Grinberg Method in Switzerland. Upon returning to Canada she became an RMT to work in the field of Health and Wellness which to say is her passion, is an understatement.
Colleen practices mindfulness techniques. She individualizes each treatment and every visit according to the needs of her patients. She has been training her whole life to be a health facilitator, having grown up an athlete and devoured everything she could study about wellness. Colleen also has a Phys. Ed degree from the University of Western Ontario which helps her with understanding the biomechanics causing the patient's pain. As well, her love of anatomy aids in getting to the root of each patient's problem quickly and effectively.
Colleen likes to say, she draws from her tickle trunk of modalities she has studied including, NISA Neuromuscular Integrative Stuctural Alignment, Shiatsu, and Cranial Sacral Therapy. She has recently begun a one year study of thealignsystems.com.
She practices what she preaches, receiving weekly massages, practicing pilates, yoga, and mindful meditation. She loves to ski, both on snow and water, golf, learn and laugh. Colleen likes to say, "Every body is the same, but everybody is different."
---
Lilian Qu, RMT
Registered Massage Therapist
Lilian has been a registered massage therapist since 2015. She worked in a spa for 3 years but when it closed, she joined the team at SHAPE! She is skilled and experienced in relaxation swedish massage, foot reflexology, facial massage and hot-stone massage.
---
James Yang
Registered Massage Therapist
James has been an active member of the College of Massage Therapists (CMTO) since 2018. His ultimate goal is to help people to reduce soft tissue issues, relieve stress, help rebuild a positive lifestyle, experience inner peace, improve mental happiness and maintain health from the roots.
James specializes in treating neck stiffness, frozen shoulders, chronic low back pain, and headaches caused by stress. He not only integrates specific types of massage therapy practices such as deep tissue massage, Swedish massage, hot stone massage, myofascial techniques, and trigger points techniques, but also involves simple, safe, but effective tai chi and exercise movements to achieve optimal treatment results.
His motto is "small steps, never give up!"
---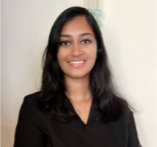 Riya Shah BKin, RMT
Registered Massage Therapy
Exercise Therapist

Client Relations Associate
Riya is an incredible Registered Massage Therapist from Sutherland - Chan School of Massage Therapy. She also received her Bachelor's of Kinesiology from the University of Toronto. Her passion is to help others' physical health and well-being, which motivated her to pursue a career in massage therapy post graduate. Throughout her studies, she has gained extensive clinical experience working with a wide demographic population, with various musculoskeletal conditions.
Along with her previous knowledge in exercise therapy and rehabilitation, Riya believes that each client is unique with their personalized process of recovery. Her treatment style is a holistic, patient - centered approach with the goal of catering to the individual needs of the patient in order to achieve long term effects towards their overall well-being.
In her free time, Riya loves to play cricket, practice meditation and paint.