---
Dr. Sender Deutsch DC, Medical Acupuncture, CSCS, ART®, CGFI
Clinic Director - Chiropractor
Acupuncture
Exercise Therapist
Active Release Techniques ® Soft Tissue Treatment Provider
Certified Golf Fitness Instructor
Synergy Performance Tape Provider
E-MAIL SENDER
Interview With Sender
Dr. Sender Deutsch is one of the creators and founders of SHAPE Health and Wellness Centre. SHAPE'S comprehensive and multidisciplinary concept was derived from his strong educational background and in-depth experience within the health and wellness industry. As a result of his experience treating numerous patients and clients, Dr. Deutsch came to the realization that a facility with this orientation did not exist. SHAPE's goal is to provide a personalized service, guided by health care professionals, in an upscale friendly atmosphere.
SHAPE was developed to revolutionize your lifestyle. It is Toronto's first truly integrated boutique health and wellness centre offering a total mind and body approach to your health.
Dr. Sender Deutsch is a graduate of the Canadian Memorial Chiropractic College (CMCC), where he obtained his Doctor of Chiropractic and Diploma in Acupuncture. Dr. Deutsch has successfully completed Level Two of the Rehabilitation Sciences Fellowship program with the American Chiropractic Rehabilitation Board (ACRB).
Prior to attending CMCC, Dr. Deutsch studied Kinesiology and Sports Therapy at York University. Dr. Deutsch is also a Certified Active Release Techniques(ART®) Provider (Master's, Upper Extremity, Lower Extremity, Spine and Nerve Entrapment), Certified Strength and Conditioning Specialist and Personal Trainer of the National Strength and Conditioning Association, Certified Golf Fitness Instructor of The Titleist Performance Institute (TPI) and Certified Sports Movement Specialist. He is also certified in Synergy Performance Taping, Custom Orthotic Therapy and Bracing. Dr. Deutsch has also taken post graduate courses in Medical Acupuncture, Intramuscular Stimulation (IMS), Sports Medicine, Manual Medicine, Functional Training, Golf Performance Training, sports kinesio-taping and fascial abrasion techniques.
Dr. Deutsch completed his clinical internship at the Sherbourne Health Centre at St. Michael's Hospital. He actively participates in sports medicine and orthopedic rounds at Mount Sinai and North York General Hospital. He has also participated in spinal orthopedic rounds at Toronto Western Hospital and family practice rounds at St. Michael's Hospital.
He has a wealth of experience training and rehabilitating people of all ages. He has worked with amateur and professional athletes from the NHL, OHL, NCAA, national skiers, adventure racers and has worked with various media personalities, celebrity clients and CEO's. In addition, Sender has experience with everyday people including both weekend warriors to those who led previous sedentary lifestyles. Dr. Deutsch has been a faculty member at CMCC in the Department of Clinical Education since 2002.
Dr. Deutsch has been featured on City TV, CP24, Slice TV - Doctor In The House, Three Takes, and The Mom Show, CFRB Talk Radio and appeared in numerous articles within Toronto Life, Oxygen, Hello and Flare magazines, The Toronto Sun, The Globe and Mail, Metro News, Fitness Business Canada, Canadian Chiropractor, Chiropractic Economics, 2-Magazine, Wedding Bells, London Press, and CA magazine.
Dr. Deutsch's approach to treatment and training is totally revolutionary and unique. He has developed a two-step program called
Integrated Therapy and Training (ITT)
integrating state-of-the art Physical Therapy with High Performance Personal Training techniques. Each treatment is one-on-one and constantly monitored to ensure progress and success in a timely fashion.
Educating the patient is an essential component of any rehabilitation or fitness program. Therefore, each patient will be guided to effectively manage and prevent his or her condition from recurring in the future. An individualized program will be designed to rehabilitate your injury, expedite your recovery, achieve your goals and optimize your performance.
---
Kevin Villafana BA Hons (Kin.), MScPT, ART®, CSCS
Registered Physiotherapist
ART® Active Release Techniques Provider
Acupuncture
Exercise Therapist
Kevin has always had an intrinsic understanding of the importance of fitness and training from his competitive days in soccer and volleyball to the present, enjoying recreational sports such as soccer, hockey, tennis, yoga, squash, basketball and ultimate Frisbee. Kevin was exposed to the benefits of Physiotherapy when a devastating injury prevented him from enjoying his passion for sports. As a patient he sought out Physiotherapy for the first time and shortly after, he was restored to full function with no limitations allowing him to return to his beloved sports. It was this experience that motivated Kevin to pursue his Masters degree in Physiotherapy.
Kevin began his journey by acquiring a Bachelor of Arts degree in Kinesiology and Health Sciences with a minor in Psychology at York University. This allowed him to understand the science behind human movement which is crucial for the specific training and conditioning of his clients. Kevin then went on to complete his Master of Science degree in Physiotherapy at Queen's University and also completed training to become a Certified Strengthening & Conditioning Specialist. His completion of courses in ART®, Medical Acupuncture, Kinesio/Athletic/Leuko Taping, Athletic Therapy, Athletic Injuries, courses from the Advanced Physical Therapy Education Institute, and experience in 5 orthopedic settings has providing him with the tools to affectively treat and restore full function to his clients.
Kevin has over 3 years of experience and was recently recommended in an article from the magazine Delectably Chic (link under 'media' section above). Kevin has a strong foundation in managing acute and chronic low back and neck pain, various sport injuries, muscle strains, ligament sprains, repetitive strain and rotator cuff injuries, functional rehabilitation; in addition to a variety of other musculoskeletal impairments resulting from everyday and/or recreational activities. In order to treat these conditions he can provide joint mobilizations to improve movement, spinal manipulations, specific manual stretching, therapeutic taping, soft tissue and myofascial release/massage and specific exercises to rehabilitate and prevent injuries.
Kevin has always appreciated the complexity and immense physical capabilities of a single human being. Thus, he trains and treats every client as a unique individual with specific goals which optimizes their results. This is why he has dedicated his life to studying the human body, and why he is motivated to continually advance his professional expertise. Kevin believes that with guided education, treatment and training, every client can benefit from a little push in the right direction to achieve their full potential. His charismatic and motivated personality combined with his extensive knowledge base provide him with the right tools to be a valuable member of the SHAPE team.
---
Stefan Rewa BSC (Kin), CPT-CSEPExercise Therapist
Stefan holds a Bachelor of Science Specialized Honours Degree in Kinesiology and Health Science from York University, and is recognized by the Canadian Society for Exercise Physiology (CSEP) as a Certified Personal Trainer (CPT). Stefan has vast work experience with clients of all fitness levels, from beginners to elite athletes who he treated while working at the Toronto Cricket Club as a Health and Fitness Associate. Stefan has been professionally involved with medical and fitness testing for the NHLPA Scouting Combine and participated in the development of standardized testing protocols for the British Columbia Firefighters.
Stefan has always had a passion for fitness, health and sport. In his youth, he competed in the Trillium equestrian circuit and was ranked in the top 10 in Ontario for his age group. As a well-rounded athlete, he is an avid skier, golfer, cross country runner, track and field participant and soccer player. While attending university, his desire for endurance events developed and he began his pursuit of aspired fitness goals. Stefan has participated in close to 50 organized racing events including marathons in Canada and the US, 100 mile bike races in North America, as well as the Muskoka Ironman. Stefan is committed to developing a sport specific periodized training program and taking your athletic performance to the next level.
With his experience, passion for fitness and academic knowledge, Stefan has the expertise to partner with clients in achieving their goals.
---
Andrew Majury BA, CPT, PNC, CFSTExercise Therapist
Andrew graduated from Laurentian University with Bachelor of Arts, and has been a Certified Personal Trainer since 2012. He has continued his growth in the fitness industry by also becoming certified in Olympic Lifting, a Level 1 Precision Nutrition Coach, and a Certified Fascial Stretch Therapist.
He began training as a high level football player, a Brazilian jiu jitsu practitioner, Thai kickboxer, and judo athlete. This awesome combination has given Andrew a wealth of knowledge that he is able to apply to not only sport specific clients but for any client looking to improve their overall health and fitness level.
Andrew continuously works to improve his training methods so that all of his clients can benefit greatly, and it has definitely shown as he has had clients who have earned multiple medals at the PanAm games, developed as Ontario Football Prospects, along with others who have achieved large weight loss goals, and become pain free.
As a SHAPE conditioning specialist and personal trainer, setting and achieving your goals are his number one priority. He does so with an amazingly positive attitude, strong belief in what we as people are capable of, pushing you to new heights, being constantly available to keep you on track, and providing workouts programmed with integrity to get you to look and feel better than ever.
---
Randy Correia, BSc (Kin), CSCS
Exercise Therapist
Randy holds a Bachelor of Science Degree in Kinesiology from the University of Guelph Humber. He is recognized by the National Strength and Conditioning Association (NSCA) as a National Strength and Conditioning Specialist (CSCS). He is also registering as a certified Kinesiologist with the Ontario Kinesiology Association (OKA).
His passion for fitness has come from a participation in a variety of sports such as: football, soccer, ball hockey and volleyball, at both recreational and competitive levels. Through the years in the participation in these sports, he has been exposed to injuries both to him and teammates that has led to a deep understanding of the importance of fitness and exercise as a successful preventative approach. This knowledge led to several years in exercise rehabilitation and injury prevention where he has garnered a training method that includes functionality, stability, endurance, strength and flexibility.
With Randy as your SHAPE conditioning specialist and personal trainer, you can expect integrity, purpose and functionality. He will make sure that your exercise program is specific to your goals and motivate you to achieve phenomenal results with various training styles from metabolic conditioning to strength. It is time to get that mind, body and soul into SHAPE!
---
Client Relations Associate
Adam graduated from college with a diploma in outdoor adventure. During his time at Algonquin he specialized in rock climbing, high angle rescue, snowboarding and white water kayaking. After his program, he worked in the rock climbing and adventure sport industry for several years. Adam became fascinated with how people were repeatedly getting injured and he wanted to learn how to help them return to their activities. Adam decided that the best method was to continue his education in the field of injury care. He then obtained a degree in athletic therapy.
Throughout Adam's career, he has worked as a head athletic therapist for several sports teams, including soccer, rugby, hockey, football, and field hockey. As a student therapist, Adam worked with the Hamilton Tiger-Cats and the Ryerson Rams.
Adam aims to help patients reach their goals by reducing pain through manual therapy, correct biomechanics and appropriate exercise plans. Giving patients the tools necessary to reduce pain is Adam's highest priority.
---
Client Relations Associate
Adrian has an educational background in health sciences (nursing), and a passion for health and fitness. Adrian is an experienced fitness consultant, specializing in medical exercise, posture and movement neurology, orthopedic exercise (post-rehabilitation), corrective exercise (injury-prevention), movement mobility and optimal performance, weight loss, and senior fitness.
Adrian has a diverse professional development education that allows him to easily collaborate with industry healthcare practitioners, ensuring clients receive an effective and unique health-fitness program, tailored to meet their particular needs. Adrian has earned various graduate and post-graduate accreditations from the following health-fitness credentialing bodies: National Academy of Sports Medicine, American Council on Exercise, Brookboosh Institute of Human Movement Science, Rehab U - Movement and Performance Therapy, and the American Posture Institute.
Adrian previously served at a prestigious Yorkville sports medicine clinic as the director of personal training and was humbled to work collaboratively with a team of medical doctors and healthcare practitioners, implementing medical fitness consulting and programming with their patients. In addition to Adrian's involvement at SHAPE, in his spare time, Adrian is a competitive masters diving athlete where he has represented Canada twice for the FINA World Championships (2014 and 2017). He is also taking prep courses to pursue a Masters of Applied Neuroscience & Mental Health (Abnormal Psychology).
---
John Sohn MPK, CSCS, FRCms
Exercise Therapist
Functional Range Conditioning Mobility Specialist
John Sohn is a human movement and exercise specialist who has spent his life using his knowledge and skills to help clients achieve personal goals and develop their physical performance to become the best version of themselves. As an exercise enthusiast, he knows how healthy lifestyle and fitness can immensely affect every facet of one's quality of life. While his focus is on human movement and performance, he can provide services for a wide range of population from injury rehabilitation and general fitness to weekend warriors and elite athlete high performance.
He knows that there is no such thing as a "one size fits all" program that works for everyone, so he continues to explore and learn emerging health and kinesiology trends to deliver the most effective program that works for each individual's needs and goals.
John holds a Bachelor of Kinesiology degree from University of Toronto. He later graduated with a Master of Professional Kinesiology from University of Toronto. He then strengthened his specialty even deeper by accomplishing the Certified Strength and Conditioning Specialist® (CSCS®), which is an accredited credential offered by the National Strength and Conditioning Association (NSCA). He then completed the Functional Range Conditioning (FRC)® mobility development system certification that is currently used by practitioners worldwide with the purpose of mobility development, joint strengthening, and increased body control.
John has experience training various populations. He worked with amateur and elite professional athletes from MLS, NBA, NHL, and has helped clinic clients through different rehabilitation programs.
He believes that physical activity and exercise treatment should be tailored to individual demands and goals. Knowing that there are countless factors that can potentially affect one's health and wellness, Jun is here to guide you through an Integrated Therapy and Training (ITT) program that can effectively help you achieve your health goals and improve your quality of life.
---
Excel Mba
Exercise Therapist
Client Relations Associate
Excel is completing a specialized Bachelor of Science in Kinesiology. Her previous experience in clinical physiotherapy/rehabilitation settings has prepared her to be well equipped for the SHAPE team. Excel has a passion for fitness and activity that was fuelled by her participation in numerous sports teams as an adolescent.
As a personal trainer with a kinesiology background, Excel has been exposed to many opportunities where she has fined tuned her knowledge and abilities for Athletic training. She is well versed in strength/power training as well as weight loss and maintenance training. She hopes to bring this enthusiasm to her experience at SHAPE and interaction with SHAPE clientele. In her free time, she enjoys weight lifting, playing sports and spending time with her friends and family. She hopes to bring a positive and personable experience to SHAPE clients and grow with the SHAPE team.
---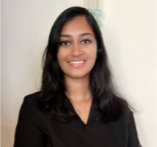 Riya Shah BKin, RMT
Registered Massage Therapy
Exercise Therapist

Client Relations Associate
Riya is an incredible Registered Massage Therapist from Sutherland - Chan School of Massage Therapy. She also received her Bachelor's of Kinesiology from the University of Toronto. Her passion is to help others' physical health and well-being, which motivated her to pursue a career in massage therapy post graduate. Throughout her studies, she has gained extensive clinical experience working with a wide demographic population, with various musculoskeletal conditions.
Along with her previous knowledge in exercise therapy and rehabilitation, Riya believes that each client is unique with their personalized process of recovery. Her treatment style is a holistic, patient - centered approach with the goal of catering to the individual needs of the patient in order to achieve long term effects towards their overall well-being.
In her free time, Riya loves to play cricket, practice meditation and paint.