Whether you're looking to increase strength, stability and mobility, or prevent injuries, the TPI program at SHAPE is for all avid golfers desiring to improve their on-course performance and enjoyment through enhanced conditioning.
Golf PARformance at SHAPE is a specialized physical screening and corrective exercise program designed by the
Titleist Performance Institute (TPI )
. Prior to starting your strength and conditioning program, you will be assessed by our clinic director, Dr. Sender Deutsch, who will perform the TPI screening process in conjunction with a full medical and sports injury assessment. Following your assessment, a personalized integrated program consisting of manual/physical therapy and high performance training will be specifically designed for you. We will also send a report of findings to your golf coach/instructor and contact them to ensure that we are all working as a coordinated team to enhance your game.
Utilizing the TPI physical screening process, we measure your ability to generate and transfer speed and determine the most efficient energy transfer throughout your body. We will isolate any physical limitations through the TPI Golf Screen, correlate these findings to your swing technique and prescribe a custom-conditioning program. As well, we can also refer you to
MD Golf
who will match your club fitting with your physical screen.
Our system focuses on:
Identifying faulty stability (balance, strength and muscle endurance) patterns and altered mobility (joint range of motion and muscle flexibility)
Optimizing muscle balance and joint alignment which will allow you to create a powerful consistent golf swing
Reducing your risk of developing back pain and other strains and sprains
Conditioning that will allow you to move easily from the 1st tee to the 18th green
We specialize in golf performance enhancement through exercise and manual therapy (Active Release Techniques ART, Isolated Stretching and Sports Therapy). The system of movement analysis allows us to identify functional anatomic restrictions to golf performance and develop a plan to optimize each athlete's ability. Golf is a rotational sport that strains one side of the body more than the other. The body is continuously being torqued in one direction, often creating muscular imbalance. This lack of body symmetry can lead to stiffness, chronic pain and an increased risk of injury, which all affects performance.

There has been a growing awareness of the importance of Golf Fitness in the past 10 years, highlighted by players like Tiger Woods, Laura Diaz, Michelle Wie, Brad Faxon, and David Duval. It is now known that in order to improve your game and prevent injury, you must increase your body's core strength, power and flexibility.

In order to counteract your swing faults, we combine physical therapy biomechanical analysis and treatment protocols with high performance personal training / strength and conditioning techniques. We focus on effectively addressing core strength, core stability and body balance in order to achieve proper golf swing mechanics, proper set-up and correct body alignment. These exercises strengthen the appropriate muscles that provide greater control and allow for the stable base necessary for achieving the perfect golf swing.
DID YOU KNOW
53% of male and 45% of female golfers suffer from lower back pain, and that 30% of all touring professionals are playing injured at any given time? The sport is also rampant with wrist and elbow problems. This is not surprising, considering the overuse of the arms that exists, related to the lack of appropriate core conditioning in most golfers.
Golf PARformance Benefits:
Core strength and stability
Increased flexibility
Hip strength and stability
Improved balance
Better focus
Reduced risk of injury
Increased back strength
Increased lean body mass
Improved endurance
Golf Fitness Screening: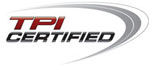 The TPI physical screening cost is
two treatment units
. A personalized program based on your goals will be developed for you within 48 hours of the screening. All training programs will be carried out by our conditioning specialists and overseen by our clinic director.